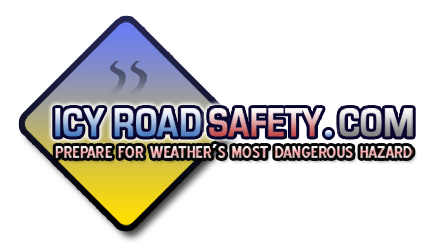 Icy Roads: News and Updates Blog
December 2008 Archives
---
Saturday, December 27, 2008
Indiana's deadly icy road reputation continues

The state of Indiana suffered another 7 fatal icy road accidents on Friday, December 26. All of the incidents were caused by freezing rain (black ice). Indiana has held a significant lead as the most deadly state in the country for icy road accidents, now with 33 people losing their lives since October. (Detailed stats here).
---
Wednesday, December 24, 2008
USA toll passes 200, Tuesday's toll: 32, since Sunday: 56

Total icy road deaths in the USA have topped the 200 mark today. I expected the stats to pass this grim mark sometime in February, not by Christmas. 56 of those have happened in the last four days, 32 of them on Tuesday the 23rd. This season's icy road deaths are on pace to easily top the combined average annual deaths from all other forms of severe weather nationwide, including hurricanes, tornadoes, lightning and flooding. (Detailed stats here).
An alarming trend in the data is how many victims were not wearing seat belts. It appears as many as 30 percent of icy road accident victims were not wearing their safety belts.
---
Wednesday, December 24, 2008
Tuesday's toll rises to 29, demonstration video added

The icy road toll for Tuesday, December 23 has risen to an alarming 29 fatalities. That brings the 5-day toll since Saturday to 41. Tuesday's toll is almost entirely due to freezing rain-related incidents. (Detailed stats here).
Freezing rain created icy bridge conditions across West Virginia yesterday - allowing for some demonstration footage with a 'black ice' covered bridge: [ Watch video ]
---
Tuesday, December 23, 2008
Recent days' toll rises further

Tuesday, December 23 has the highest single-day icy road toll in the USA so far this season - 15 fatalities, including 4 in Kentucky. There have been 26 icy road deaths in the USA since Saturday. Tuesday's toll is almost entirely due to freezing rain, indicating that this type of winter precip is more dangerous than snow. (Detailed stats here).
---
Monday, December 22, 2008
Tragic weekend on the roads

There have been 10 icy road deaths nationwide in the past 3 days, including the worst such accident so far this season in the United States. 4 men lost their lives on Sunday in a crash in New Carlisle, Indiana. As the state that was already number 1 in icy road fatalities, Indiana has seen its toll rise to 19 (Detailed stats here).
---
Friday, December 19, 2008
Accident statistics updated

This week, I finished work compiling a list of all of the fatalities caused by icy road accidents so far this winter (an ongoing project that I plan to keep updated this season). The numbers were much higher than I expected. Through a search of online news reports from newspapers and TV, I found at least 138 verifiable fatalities from accidents in the two-month period starting on October 13. Topping the stats is Indiana, with 14 deaths. Second in line is the state of Oklahoma, with 13 deaths, all of which have occured since December 9. Oklahoma, where springtime severe storms get all of the attention, sees an average of 3 tornado fatalities annually [2].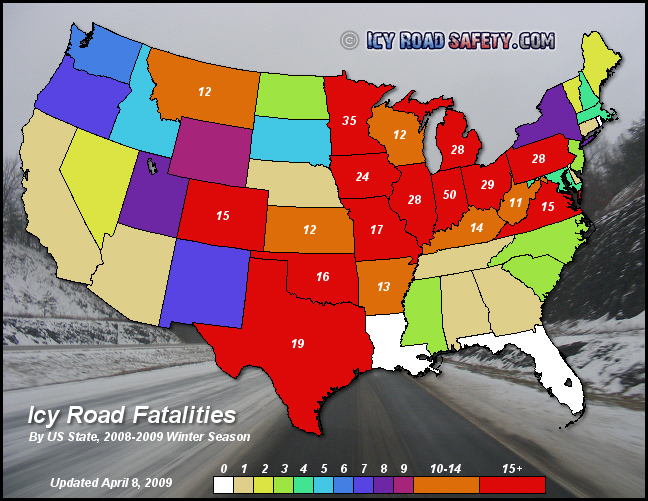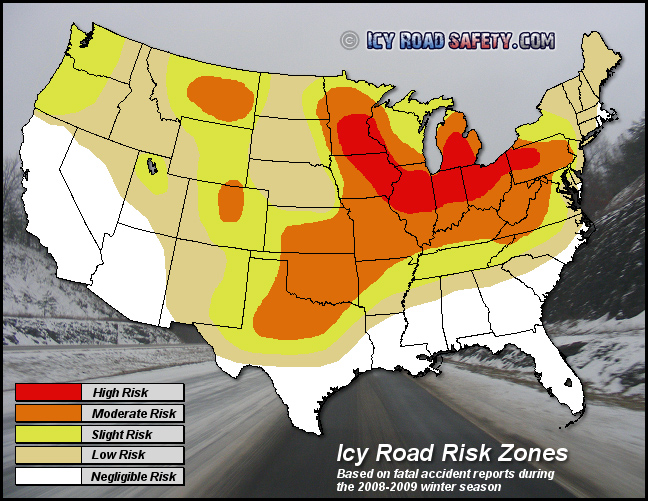 Top Ten States for Icy Road Fatalities - 2008-2009 season [1]
#
State
Fatalities
Notes
1.
Indiana

50

In addition to its significant lead as the most deadly icy road state in the US, Indiana has suffered both the worst single accident (4 fatalities) and the highest single-day icy road death toll (7 on December 26) in the country.
2.
Minnesota

35

3.
Ohio

29

4,5,6
Illinois

28

20 incidents occured in December
4,5,6
Michigan

28

4,5,6
Pennsylvania

28

7.
Iowa

24

8.
Texas

19

9.
Missouri

17

10.
Oklahoma

16

13 incidents occured between December 9-16

Download Excel file of full state-by-state data - See full accident list
Deadliest Winter Storms for Icy Roads - 2008-2009 season [1]
#
Event
Fatalities
Notes
1.
December 23-24, 2008 Freezing Rain

49

49 lives lost during the two-day storm across the Midwest, Mississippi Valley and Plains.
2.
January 26-29, 2009 Freezing Rain/Snow/Sleet

36

36 lives lost in the major storm across the Midwest, southern Plains, and mid-Atlantic.
3.
December 16, 2008 Freezing Rain

23

23 lives lost in one storm across the Midwest and southern Plains, mainly in Texas and Oklahoma.
4.
January 5-6, 2009 Freezing Rain

17

17 lives lost in the Midwest in less than 24 hours, from Arkansas to Ohio and Michigan.
5.
January 19, 2009 Snowstorms

11

11 lives lost across the eastern US and midwest, 4 in Virginia.
6.
December 26, 2008 Freezing Rain

10

10 lives lost in one storm across the Midwest, 7 of those in the state of Indiana.
Doing this work has continued to confirm what I realized a long time ago - the biggest threats to our safety tend to come from everyday things that don't get a lot of attention. And things that seem more threatening tend to get all the hype and coverage. In the weather realm, this is no different. How many tornado, hurricane documentaries do you see on TV? And how many people cite severe storm phenomena as their biggest fears? 13 people just lost their lives in Oklhahoma in a little over a week this month - with little more than a sidebar in news reports. The Greensburg, Kansas tornado took the lives of 12 people, and even to this day documentaries are still being made about it.
This winter continues to show no sign of slowing down in terms of frozen precipitation events, with a midwest ice storm starting as I type this. Just about every state in the country has dealt with icy roads so far this season - even in the deep south. So please, keep on your toes and take it slow out there.
- Dan
Reference:
1. Based on an online search of news media articles nationwide. (See accident list.)
2. From 1961-1990, Source: National Weather Service (data link)
---
Recent Blog Posts
- Developing a road impact parameter for forecast models and mesoanalysis - October 29, 2021
- The deadly Fort Worth, Texas pileup of February 11, 2021: Its cause, contributing factors and future prevention - March 31, 2021
- Major road icing event affects 41 states - January 14-18, 2018 - January 20, 2018
- Trip to Mississippi and Alabama for Southern US winter storm - January 5-7, 2017 - January 22, 2017
- High-impact freezing rain/drizzle road icing event from Oklahoma to the East Coast - December 20, 2016
- New educational winter driving videos released, more planned - November 21, 2016
- "Icezilla" freezing rain disaster in the northeast US - January 19, 2015
- December 30-January 2 Oklahoma/Texas icing event sequence - January 2, 2015
- Freezing rain disaster - November 22, 2014 - November 23, 2014
- Report: Major winter storm in the Deep South, 1/28 - January 30, 2014
- Report: High Risk road icing event in south Texas/Louisiana - January 26, 2014
- Winter tires: not the solution for preventing icy crashes - December 13, 2013
- Preliminary low estimate of December 3-8 toll - December 9, 2013
- The Top 7 Icy Road Myths - December 6, 2013
- Aren't icy road crashes caused by driving too fast for conditions, not ice and snow? - November 14, 2012
- Road icing news for January-February 2012 - February 25, 2012
- Commentary on the recent viral WV pileup video - January 8, 2012
- Significant road icing outbreak: Monday, January 2, 2012 - January 2, 2012
- No vehicle can safely go highway speeds on icy roads - December 23, 2011
- Another case for "Road Ice Warnings": December 8-9, 2011 light snow event - December 10, 2011
- A big thanks to those helping raise road icing awareness - November 18, 2011
- 15 road icing deaths in the past week: estimating the full impact - November 4, 2011
- 2011-2012 road ice season in the US already in full swing - October 22, 2011
- Coming this winter: another 2011 tornado season toll - July 21, 2011

Past Blog Archives
- April 2010 - January 2011 posts
- December 2009 - March 2010 posts
- November 2009 posts
- October 2009 posts
- March-April 2009 posts
- February 2009 posts
- January 2009 posts
- December 2008 posts

---
Educational Winter Driving Videos - Watch for Free: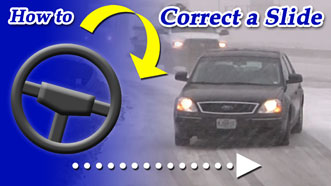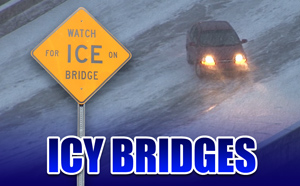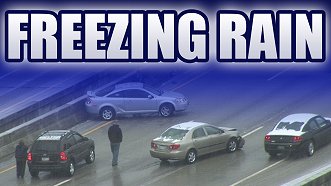 Home | Risk | Stats | Accident Video | Icy Bridges | Tips | Warning Signs | If You Slide | If You Wreck
All content © Dan Robinson. All usage, with limited exception, requires a paid license - please see usage options or contact Dan for inquiries.

Web Site Design and Internet Marketing by CIS Internet