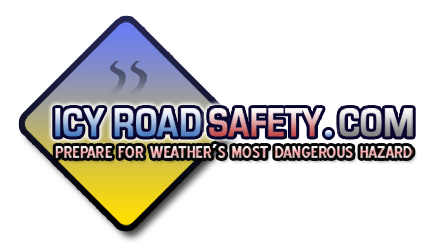 Saturday, January 20, 2018
Major road icing event affects 41 states - January 14-18, 2018
By DAN ROBINSON
Editor/Photographer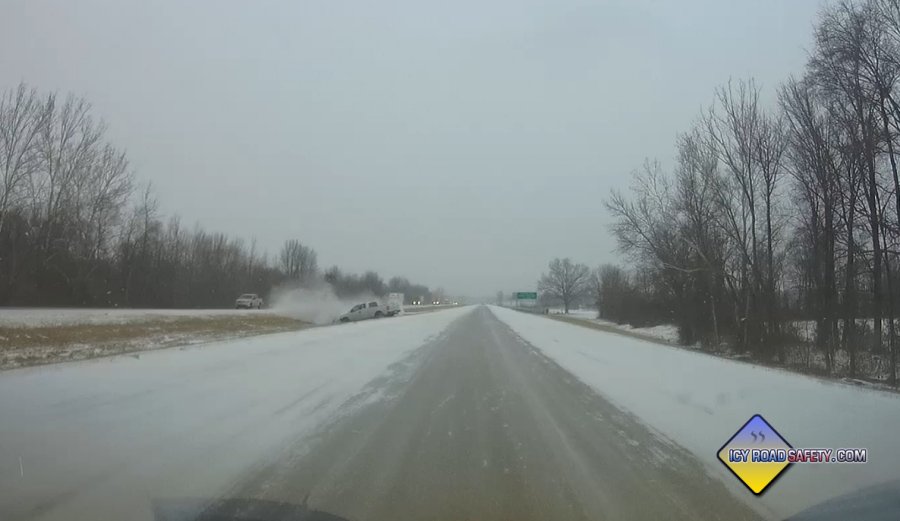 Icy road close call on I-55 in Mississippi
HD VIDEO: Interstate 55 cross-median slides in Mississippi
SENATOBIA, MS - It is rare for a single storm to threaten the majority of the United States with the icy road hazard. The event brought dangerous conditions to 41 states in a continuous swath from Canada to the Gulf of Mexico, from the Rocky Mountains to the Atlantic Ocean.
ICY ROADS TO THE GULF COAST: A HIGH RISK icing event is expected to impact the far southern Texas & Gulf Coast states Monday-Wednesday. A mixture of snow, sleet & freezing rain will make any travel extremely dangerous & in many cases impossible. #txwx #lawx #mswx #alwx pic.twitter.com/FqNDZEX583

— icyroadsafety.com (@icyroadsafety) January 15, 2018
So large was the area of risk that a bit of incredulity was garnered from the map I posted on the icyroadsafety.com Twitter account:
As much as I don't want to give a fake Twitter account with 352 followers more attention, this map is just too funny not to share. ?????? #ICEageddon https://t.co/Z01ov0Ph6X

— Chase Arnold (@Local24Chase) January 16, 2018
But the map was no joke. As of the publishing of this post, the media-sourced death toll from this event is at 42 (many fatal accidents are not reported in news media, and therefore this figure represents the absolute minimum number). Many tragic stories are emerging, particularly from the south, where the impacts from icing are higher due to the lack of salting and most drivers inexperienced with winter weather. Near New Orleans, an 8-month old baby was killed and the mother critically injured by an icy bridge near Metarie. Another icy bridge nearby took the life of a firefighter assisting another accident victim.
One of the many human impacts from road/bridge icing from this latest storm, in Louisiana. #lawx https://t.co/KpQthIOMfy

— icyroadsafety.com (@icyroadsafety) January 19, 2018
Even NASCAR drivers are not immune to the hazard. In North Carolina, famous professional race car driver Dale Earnhardt Jr. wrecked on the slick roads:
NC stay off the roads today/tonight. 5 minutes after helping these folks I center punched a pine tree. All good. Probably just needs a new alignment. pic.twitter.com/OfA5Q28jew

— Ralph Dale Earnhardt Jr. (@DaleJr) January 17, 2018
Meteorological synopsis
The event was caused by an expansive storm system spreading precipitation across the country as a significant arctic air mass plunged southward into the Gulf of Mexico. Snow was the dominant precipitation type for all but the extreme southern portions of the event along the Gulf Coast, where a mixture of sleet, freezing rain and snow was seen as far east as the Florida panhandle. The surging arctic air was cold enough to allow for all-roads icing to within 50-100 miles of the Gulf Coast, while the coastal regions saw primarily bridge icing.

Following the precipitation, the air remained below freezing for as much as 48 hours in most southern locations, keeping the icy road threat present for days after the storm.
Media-sourced accident reports
The following is a list of the fatal accidents reported in online-searchable news media, current as of the publishing of this post:
Alabama (4)
Andalusia
1
Brewton
1
Huntsville
1
Lee County
1
Georgia (4)
Macon
2
Marietta
1
Paulding County
1
Ohio (4)
Akron
1
Akron
1
Logan County
1
Sidney
1
Texas (4)
Austin
1
Cut and Shoot
1
Houston
1
Pasadena
1
Colorado (3)
Colorado City
2
Strasburg
1
Louisiana (3)
Metarie
1
New Orleans
1
St. Francisville
1
North Dakota (3)
Mandaree
1
Thompson
2
Illinois (2)
Thomasboro
1
Lyndon
1
Indiana (2)
Laporte
1
Michigan City
1
Missouri (2)
West Plains
1
Dade County
1
Arkansas (1)
Sheridan
1
Florida (1)
Santa Rosa County
1
Kentucky (1)
Pikeville
1
Maine (1)
Winthrop
1
Montana (1)
Rosebud
1
New Mexico (1)
Las Vegas
1
North Carolina (1)
Roper
1
Pennsylvania (1)
Shippingport
1
South Carolina (1)
Greenville
1
West Virginia (1)
Milton
1
Total: 42
The following are county, state or city total accidents reported by law enforcement and/or emergency management agencies during the event:
| | |
| --- | --- |
| North Carolina | 2,700+ |
| Houston, TX | 400+ |
| San Antonio, TX | 230+ |
| Virginia | 248+ |
| Greensboro, NC | 150+ |
| Memphis, TN | 100+ |
| Livingston Parish, LA | 85+ |
| Beaumont, TX | 80+ |
| Jefferson Parish, LA | 79+ |
| Winston-Salem, NC | 60+ |
Videos
The following are more notable incidents-caught-on-camera during the event:
Field coverage
I departed St. Louis early Monday to cover this event in the deep South, arriving at my first overnight stop at Hernando, Mississippi. The trip was cut short when I suffered a sidewall-damage flat at the hotel from a hard-to-see curb protruding into the dark parking lot. Due to the MLK holiday and the fact that I am running winter tires (which are not sold in the South), I had no way to repair the tire before the storm began. This also limited my coverage expedition to northern Mississippi, as there would be no way to make the additional distance to the Gulf coast as originally planned.

During the storm, I spent about 12 hours in the Memphis area and the I-55 corridor in northern Mississippi observing the conditions and shooting video. Other than a 30-minute period of sleet and freezing rain Monday night, the precipitation type in this region was primarily snow. I-55 quickly became very slick due to the lack of treatment and the effects of vehicles compacting the snow into a layer of ice.

The worst conditions were encountered in Senatobia, MS along I-55, where I witnessed two full-size pickups lose control and nearly cross the median into the oncoming lanes. These both occurred while I was driving, so the dash cameras captured the incidents:

The following comments were posted before this site switched to a new comment system on August 27, 2016

:

Recent Blog Posts
- Developing a road impact parameter for forecast models and mesoanalysis - October 29, 2021
- The deadly Fort Worth, Texas pileup of February 11, 2021: Its cause, contributing factors and future prevention - March 31, 2021
- Major road icing event affects 41 states - January 14-18, 2018 - January 20, 2018
- Trip to Mississippi and Alabama for Southern US winter storm - January 5-7, 2017 - January 22, 2017
- High-impact freezing rain/drizzle road icing event from Oklahoma to the East Coast - December 20, 2016
- New educational winter driving videos released, more planned - November 21, 2016
- "Icezilla" freezing rain disaster in the northeast US - January 19, 2015
- December 30-January 2 Oklahoma/Texas icing event sequence - January 2, 2015
- Freezing rain disaster - November 22, 2014 - November 23, 2014
- Report: Major winter storm in the Deep South, 1/28 - January 30, 2014
- Report: High Risk road icing event in south Texas/Louisiana - January 26, 2014
- Winter tires: not the solution for preventing icy crashes - December 13, 2013
- Preliminary low estimate of December 3-8 toll - December 9, 2013
- The Top 7 Icy Road Myths - December 6, 2013
- Aren't icy road crashes caused by driving too fast for conditions, not ice and snow? - November 14, 2012
- Road icing news for January-February 2012 - February 25, 2012
- Commentary on the recent viral WV pileup video - January 8, 2012
- Significant road icing outbreak: Monday, January 2, 2012 - January 2, 2012
- No vehicle can safely go highway speeds on icy roads - December 23, 2011
- Another case for "Road Ice Warnings": December 8-9, 2011 light snow event - December 10, 2011
- A big thanks to those helping raise road icing awareness - November 18, 2011
- 15 road icing deaths in the past week: estimating the full impact - November 4, 2011
- 2011-2012 road ice season in the US already in full swing - October 22, 2011
- Coming this winter: another 2011 tornado season toll - July 21, 2011

Past Blog Archives
- April 2010 - January 2011 posts
- December 2009 - March 2010 posts
- November 2009 posts
- October 2009 posts
- March-April 2009 posts
- February 2009 posts
- January 2009 posts
- December 2008 posts

Educational Winter Driving Videos - Watch for Free: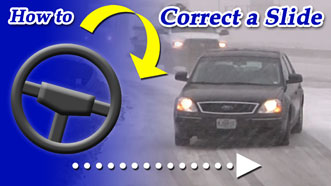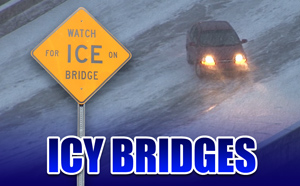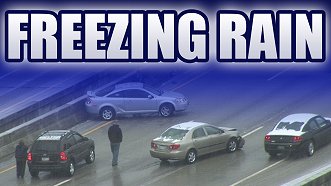 Home | Risk | Stats | Accident Video | Icy Bridges | Tips | Warning Signs | If You Slide | If You Wreck
All content © Dan Robinson. All usage, with limited exception, requires a paid license - please see usage options or contact Dan for inquiries.

Web Site Design and Internet Marketing by CIS Internet