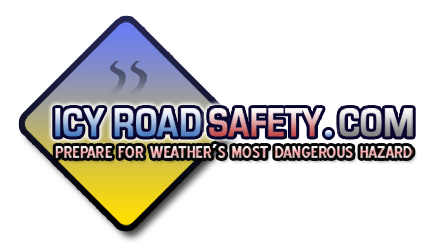 "Road Ice Warning" initiative
Based on the data collected during the winter seasons between 2008 and 2010, coupled with on-site footage and observations from road icing events since 2004, it would be beneficial that both the National Weather Service and media outlets give more urgent and intensive coverage and attention to the road icing threat. Specifically, this should be facilitated in part by the introduction of a NWS warning product for the road ice hazard ("Road Ice Warning" or similar) and that it be given the same priority status as other warning products issued by the NWS (such as high wind warnings, severe thunderstorm warnings, flash flood warnings and tornado warnings). This initiative is in no way meant to indict or criticize the NWS. The purpose is to re-evaluate current practice and discuss potential improvements, much in the same spirit that changing hail size criteria for severe thunderstorm warnings was undertaken.
Saving Lives: Three 'links' in the warning process chain
The goals of this initiative involve three "links" in the 'chain of communication' between the NWS and the public:
Link #1: National Weather Service warnings: The NWS is the fully equipped, well qualified and widely recognized official source for weather hazard information in the USA.
Link #2: Media and other communication outlets: Radio, television, NOAA All-Hazards Radio and internet-based outlets are the primary vehicles that communicate NWS warning information to the public. Other modern means of communication available include highway message signs, cell phones, e-mail, and social networking sites.
Link #3: Public education and awareness: The public must be educated to recognize weather-related threats and on how they should respond to warning messages they receive.
Improving road ice safety involves all three of these "links" in the chain. It is the purpose of this web site to contribute to "Link #3", but links #1 and #2 are also essential in completing any effective campaign to save lives. The process starts with Link #1 (the 'official entity' of the NWS declaring the hazard), followed by Link #2 (communicating the hazard appropriately), and finally ends with Link #3 (an educated and aware public responding to the warnings).
Road Icing: A significant threat to life and property
Consider the following facts:
Road icing from light snow, freezing rain (ZR) and freezing drizzle (FZDZ) is a high-impact weather phenomena that directly poses a significant threat to both life and property.

More people are killed and injured in motor vehicle crashes caused by SN, ZR and FZDZ than in any other form of severe weather.

Death and injury rates per hour/per mile traveled during SN, ZR and FZDZ are higher than in any other form of severe weather and possibly higher than in any other weather condition period.

Currently, SN, ZR and FZDZ events that fall below warning criteria (which are the vast majority of events) are covered only by Freezing Rain Advisories, Winter Weather Advisories and Special Weather Statements - products that do not convey a sense of urgency and a threat to life and property.

Under current practice, minor SN, ZR and FZDZ events that frequently cause fatal crashes often do not meet the criteria for NWS advisories.

Unlike heavy snow, road icing from light snow, ZR and FZDZ is not visually apparent to drivers, and as a result:


Drivers do not have a chance to adjust their speeds before encountering the hazard

Crashes occur at much higher speeds, resulting in higher impact forces, greater vehicle damage, more serious injuries and high fatality rates.


The NWS and other NOAA offices (including the TPC, SPC) currently issue watch, advisory and warning products for high winds, floods, river floods, flash floods, hard freezes, frost, severe thunderstorms, tornadoes, elevated fire weather conditions, gales, maritime storms, hurricanes, tropical storms, ice storms, blizzards and winter storms - all phenomena which have much lower or even negligible fatality or injury rates (frosts and hard freezes for example) when compared with ZR/FZDZ.

The NWS is the agency best equipped and authorized to forecast for and monitor winter weather, as well as issue official warning products for public release.
Based on these facts, NOAA/NWS should consider these suggestions:
Implement a Road Ice Warning product for snow, freezing rain (ZR), freezing drizzle (FZDZ) and heavy freezing fog (FZFG). Criteria for the warning product should be any light snow, ZR, FZDZ, or FZFG imminent or in progress that is capable of creating a life-threatening road ice hazard (regardless of the expected total precipitation amounts).

Expand and emphasize HPC freezing rain outlooks - NOAA's Hydrometeorological Prediction Center currently issues outlooks for freezing rain twice a day for the continental US (similar to the SPC convective outlooks - Day 1, Day 2, and Day 3). However, the outlooks only denote areas that are at risk from receiving a quarter of an inch or more of ice. The outlooks are more geared at alerting for ice storm potential, not road ice. A new criteria level needs to be introduced to cover any area that is at risk for receiving light freezing precipitation capable of creating a road ice hazard.

More aggressive awareness campaigns - Awareness campaigns are already in effect for lightning, tornadoes, floods, severe weather and winter weather. I recommend that road ice be given its own emphasis separate from the winter weather umbrella. I believe that the public needs to develop the same respect for road ice as they do tornadoes and hurricanes, to the point of recognizing the warning signs and chainging their decision making process when the hazard threatens.
Suggested Protocol/Criteria/Wording for Road Icing
The Freezing Rain Advisory and Winter Weather Advisory products are good models for a Road Ice Warning product, as they are concerned with the travel hazard almost (if not entirely) exclusively. Therefore, changes to the wording and titling of this product could easily be employed for communicating to the public the level of risk.

Therefore, this proposal suggests replacing all Freezing Rain Advisories, Winter Weather Advisories and snow/ice-related Special Weather Statements (SPS) with Road Ice Warnings. As Freezing Rain Advisories and Winter Weather Advisories are primarily travel-related products, they should be combined in an all-inclusive Road Ice Warning product that effectively communicates the hazard. The combination of the products into one should simplify warning procedures, as criteria for a Road Ice Warning would be identical to any condition that would trigger a Freezing Rain Advisory, Winter Weather Advisory or a snow/ice-related Special Weather Statement.

Road Ice Warnings should not need to be issued for ice accretions meeting Ice Storm Warning criteria nor snow events meeting Winter Storm Warning or Blizzard Warning criteria, both of the latter which should supercede/replace the Road Ice Warning. However, the same wording relating the road ice hazard should be included in all Ice Storm Warning, Winter Storm Warning and Blizzard Warning products.

The following is a conceptual example of the new warning product:

THE NATIONAL WEATHER SERVICE IN CHARLESTON HAS ISSUED A ROAD ICE WARNING FOR THE FOLLOWING COUNTIES IN WEST VIRGINIA:

KANAWHA... PUTNAM... CABELL... WAYNE... JACKSON... MASON... CLAY... ROANE... LINCOLN... BOONE

EFFECTIVE UNTIL 12:00PM EST SATURDAY.

A ROAD ICE WARNING MEANS THAT FREEZING PRECIPITATION OR LIGHT SNOW WILL CREATE A DEADLY COATING OF ICE ON AREA ROADS. THIS IS A POTENTIALLY LIFE-THREATENING SITUATION FOR MOTORISTS. ROAD ICE FREQUENTLY CAUSES SERIOUS AND FATAL MOTOR VEHICLE CRASHES. REMEMBER THAT ICE OFTEN IS INVISIBLE AND CANNOT BE VISUALLY DISTINGUISHED FROM WET PAVEMENT. BRIDGES AND OVERPASSES ARE MORE SUSCEPTIBLE TO DEVELOPING ICY PATCHES. FOUR-WHEEL DRIVE AND ALL-WHEEL DRIVE VEHICLES ARE NOT IMMUNE TO LOSING CONTROL ON ICE. TRAVEL IS EXTREMELY DISCOURAGED - IF YOU MUST TRAVEL, PROCEED SLOWLY AND WITH EXTREME CAUTION.
Road Icing Myths and Frequently Asked Questions >
Educational Winter Driving Videos - Watch for Free: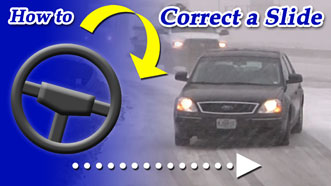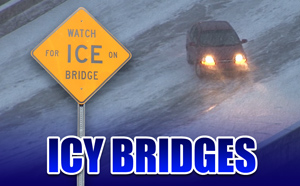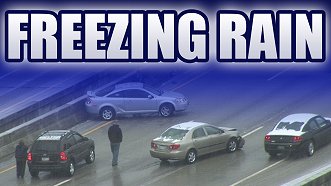 Home | Risk | Stats | Accident Video | Icy Bridges | Tips | Warning Signs | If You Slide | If You Wreck
All content © Dan Robinson. All usage, with limited exception, requires a paid license - please see usage options or contact Dan for inquiries.

Web Site Design and Internet Marketing by CIS Internet