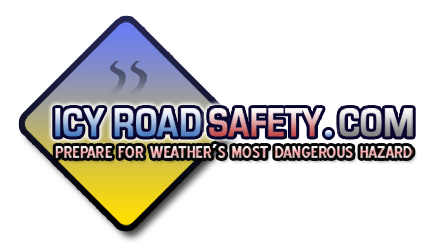 Sunday, January 26, 2014 - 3:00AM CST
Report: High Risk road icing event in south Texas/Louisiana
By DAN ROBINSON
Editor/Photographer
HD VIDEO: Tractor-trailer wreck & Texas icy slides caught on camera
I returned home Saturday from a grueling, intense trip to southern Texas to cover what is likely one of the worst types of road icing events possible. I learned many valuable details about southern US icy roads.
The "Perfect Storm" of road icing
This event was a 'perfect storm' of conditions and location, about as bad as it gets:
Freezing rain: This type of precipitation causes dangerous, highly slick and hard-to-see icing on roads.

Impacting an area immediately after a period of warm temperatures: Winter precipitation that falls following warm temperatures causes mainly bridge icing, which has a high element of surprise, catching drivers off-guard who are traveling full highway speeds.

Light precip amounts: Because precip amounts were light, this was not going to be a major storm by most criteria. This often leads to a sense of complacency by drivers who are not expecting conditions to be very 'bad'.

In a location where road icing is rare: This event was impacting an area that sees icy roads once a year or even less (Austin, Houston, Texas and Louisiana Gulf Coast, etc).

In a location where de-icing infrastructure is non-existent: There are no (or very, very few) salt trucks in the region, only a 'skeleton crew' of sand trucks.
If an SPC-style convective outlook level equivalent existed for road icing (the development and implementation of which I advocate), this event by far would qualify for a "High Risk" for its threat to life and property. To the credit of local National Weather Service offices, Winter Storm Warnings were issued well in advance that described the high threat for bridge icing. This no doubt made a major difference.
Documenting the event
I have long recognized the need to observe and document an icing event in the southern US, and I felt like this event was one of the most ideal I'd likely see for a long time. I left home on Wednesday night, spending the night at a hotel in Benton, Arkansas. I awoke at 10AM on Thursday to start what would end up being a 30-hour day, arriving in my 'staging target' of Tyler, Texas as darkness and a light snow fell. Reports of icing in Austin were already coming in.

In order to get into the zone of freezing rain, I slowly moved south as the evening progressed. I spent some time in College Station after midnight as the first waves of freezing rain moved across. Finding no problems there, I moved east to Huntsville, where bridges were beginning to ice as temperatures dropped. I continued south to Conroe, then east to Cleveland, TX at around 3AM. At this time, I witnessed my first accident of the night on a Highway 59 bridge in Cleveland. An SUV lost control on the bridge and struck the barrier. The vehicle was already out of view when it crashed, but the haunting sound of the accident was captured. I immediately ran up the embankment to the end of the bridge to signal at drivers to slow down. After about 20 more or so vehicles had passed (safely), the Texas DOT shut down the highway leading to the bridge, ending the threat at that location.

I continued south into the Houston metro, stopping at several locations to shoot video. As sunrise approached, the precipitation was ending in Houston, so I headed east on Interstate 10. All bridges were heavily iced and treacherous. At Winnie, I stopped at a location on Highway 73 that had two sets of bridges close together. Both sets of bridges were very heavily iced, and were by far the slickest bridges I had ever documented. I signalled at drivers entering the highway to slow down before encountering the eastern bridge, while shooting video of the western bridge. A tractor-trailer had already slid into the median at the western bridge. A second tractor-trailer then lost control on the western bridge and crashed into the median. This incident was captured on camera.

DOT crews arrived and sanded the eastern bridge. The DOT truck was apparently out of sand at this point, with its bed lifted up as high as it would go. This meant the western bridge remained untreated. I moved down to the western bridge to warn westbound drivers. A state trooper arrived and blocked the eastbound bridge. Wreckers arrived to pull the 18 wheelers out of the median.

Despite warning all of the westbound drivers (about 25 or so vehicles), one still lost control on the bridge and crashed. I captured this on camera, as did my car's dashcam. Finally, another police officer arrived and requested I move away from the scene.

I continued on to Beaumont. All of the east-west Neches River crossings were shut down due to ice, making them impassable. Unable to continue east, I headed north on Highway 96. Bridges here had been sanded. By now (noon Friday), drivers were keenly aware of the danger (at least in south Texas), slowing down at each bridge. As I moved north, the transition from freezing rain to sleet to snow was apparent. All bridges were still slick and covered. The deepest snow cover I observed was toward the very northern edge of the snow swath near Brookeland, TX. I finally was free of the road icing danger zone north of Carthage, and I was able to resume normal speeds. I arrived at my hotel room in Marshall, and ended my 30-hour day at 4PM Friday.
Preliminary thoughts
This trip was helpful in learning about southern US icing events. Meteorologically speaking, winter precip events are, of course, the same no matter where they occur. The biggest differences I observed in south Texas had to do with how the conditions are handled. There are no (at least none that I observed) salt trucks in this region, only sand trucks. This was my first experience observing sand being used on road ice. The sand of course does not melt or remove the ice, it only serves to provide minimal traction. Even the sanded bridges were still very slick and dangerous, to the point that drivers still needed to slow down to below 40mph to cross safely. This was especially true at the big highway interchanges that contain many elevated sections.

Another fact I learned is that many bridges in this region are simply left untreated. Apparently there is simply not enough sand and/or crews to treat everything. Authorities will shut down a bridge only when it has caused multiple accidents, if an accident is blocking the roadway, or if the bridge is simply so slick that it is impassable. At Beaumont, both the I-10 Neches River Bridge and the Highway 87/73 bridge in Port Arthur were closed, stopping all east-west traffic in the region.

The counterpoint to the region's lack of de-icing capability is that below-freezing temperatures do not typically last very long there (less than a day in most cases). The people simply deal with the conditions as best they can until warmer temperatures arrive and melt the ice.
Images
This bridge over Interstate 10 east of Houston was one of the best illustrations of how truly invisible freezing rain icing can be. This bridge was extremely slick and dangerous. The gap in the pavement in the foreground marks the boundary between the ground-based road and the bridge surface. As you can clearly see, there is no difference in appearance between the wet road and the ice. This type of icing can fool even experienced winter drivers. Click the image to view full size: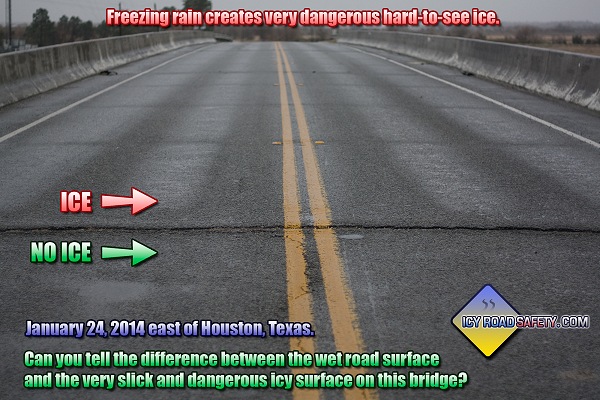 The tractor-trailer accident. The tractor began to slide sideways on the ice. When its wheels moved off of the ice onto wet pavement, the tires grabbed suddenly and pulled the rig hard to the left into the median.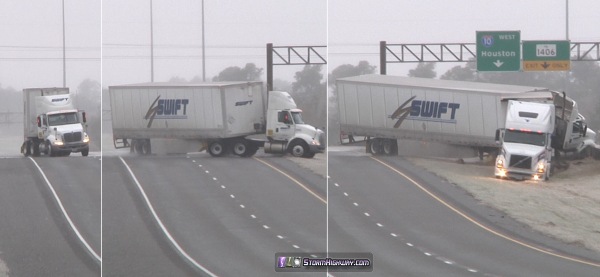 The pickup crash impact. This driver lost control due to a sudden accelleration while on the bridge, which caused the truck to start rotating sideways. The coating of ice on the truck itself is visible flying off upon impact.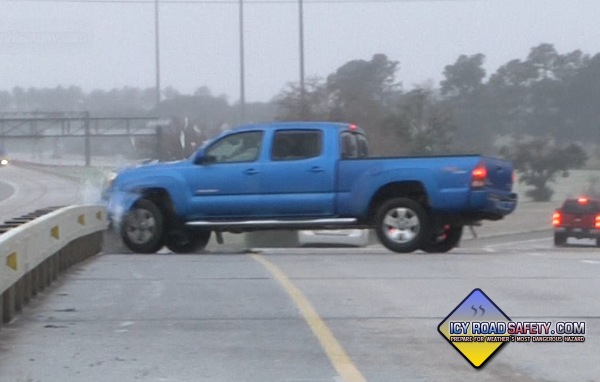 Aftermath of the tractor trailer accident. The guardrail was impacted and damaged.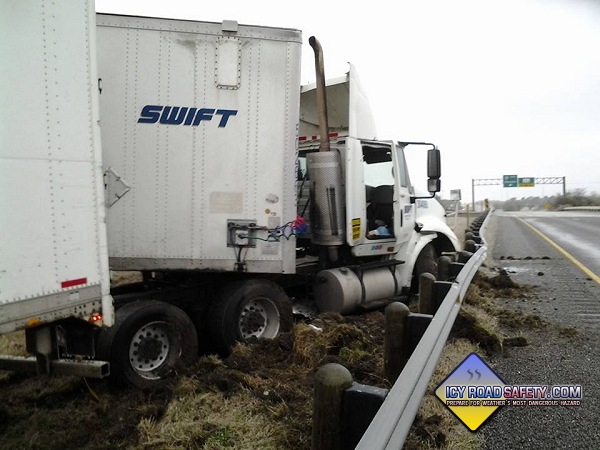 The following comments were posted before this site switched to a new comment system on August 27, 2016
:
Recent Blog Posts
- Developing a road impact parameter for forecast models and mesoanalysis - October 29, 2021
- The deadly Fort Worth, Texas pileup of February 11, 2021: Its cause, contributing factors and future prevention - March 31, 2021
- Major road icing event affects 41 states - January 14-18, 2018 - January 20, 2018
- Trip to Mississippi and Alabama for Southern US winter storm - January 5-7, 2017 - January 22, 2017
- High-impact freezing rain/drizzle road icing event from Oklahoma to the East Coast - December 20, 2016
- New educational winter driving videos released, more planned - November 21, 2016
- "Icezilla" freezing rain disaster in the northeast US - January 19, 2015
- December 30-January 2 Oklahoma/Texas icing event sequence - January 2, 2015
- Freezing rain disaster - November 22, 2014 - November 23, 2014
- Report: Major winter storm in the Deep South, 1/28 - January 30, 2014
- Report: High Risk road icing event in south Texas/Louisiana - January 26, 2014
- Winter tires: not the solution for preventing icy crashes - December 13, 2013
- Preliminary low estimate of December 3-8 toll - December 9, 2013
- The Top 7 Icy Road Myths - December 6, 2013
- Aren't icy road crashes caused by driving too fast for conditions, not ice and snow? - November 14, 2012
- Road icing news for January-February 2012 - February 25, 2012
- Commentary on the recent viral WV pileup video - January 8, 2012
- Significant road icing outbreak: Monday, January 2, 2012 - January 2, 2012
- No vehicle can safely go highway speeds on icy roads - December 23, 2011
- Another case for "Road Ice Warnings": December 8-9, 2011 light snow event - December 10, 2011
- A big thanks to those helping raise road icing awareness - November 18, 2011
- 15 road icing deaths in the past week: estimating the full impact - November 4, 2011
- 2011-2012 road ice season in the US already in full swing - October 22, 2011
- Coming this winter: another 2011 tornado season toll - July 21, 2011
Past Blog Archives
- April 2010 - January 2011 posts
- December 2009 - March 2010 posts
- November 2009 posts
- October 2009 posts
- March-April 2009 posts
- February 2009 posts
- January 2009 posts
- December 2008 posts

Educational Winter Driving Videos - Watch for Free: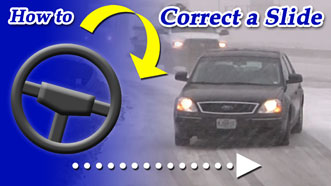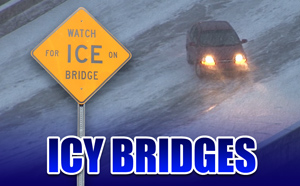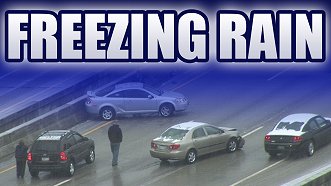 Home | Risk | Stats | Accident Video | Icy Bridges | Tips | Warning Signs | If You Slide | If You Wreck
All content © Dan Robinson. All usage, with limited exception, requires a paid license - please see usage options or contact Dan for inquiries.

Web Site Design and Internet Marketing by CIS Internet