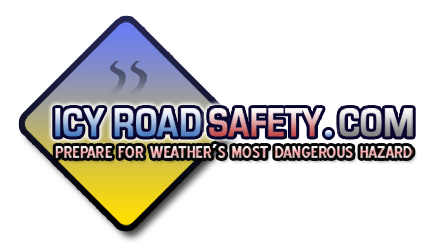 For the media: TV cameraman/reporter safety
By DAN ROBINSON
Editor/Photographer
Watch these videos of news vehicles involved in icy road crashes: Semi on Texas bridge, New Mexico snowy interstate
Covering accident scenes is part of the everyday routine for the news photographer and reporter, and during the winter, there is no shortage of this dramatic subject. However routine as it may be, during an icy road situation it can be one of the most dangerous of assignments. Photographers and reporters working in the field should take note of these points, and assignment desks/producers should also be aware of these dangers and liabilities before considering sending crews out to cover stories of this type.
Parking near/along an icy road is a common but highly dangerous practice in news coverage. Not only does it put the crew in danger of being struck by out-of-control vehicles, it can also trigger accidents when drivers brake in response to the news vehicle, reporter or cameraman being close to or on the roadway. The initial accident that happens on an icy road is frequently followed by more crashes in the same location. One should expect additional vehicles, including tractor-trailers, to lose control at any time and crash into the existing accident scene at high speed. Many fatal accidents happen during these 'secondary crashes' involving people standing outside on or along the road.
Coverage of icy road events should be done primarily from the air. Sending crews out on the road in icy conditions introduces a high risk for on-the-job injury and property damage.
Crews should park their vehicles as far off of the road as possible - never on the road or along the shoulder. If no safe parking is available, keep moving.
Photographers and reporters should set up only behind barricades, guardrails or elevated embankments that provide protection from out-of-control vehicles.
Urge motorists and bystanders to stay away from the roadway. People involved in accidents should either stay in their vehicles or, if able, drive or walk off of the roadway as far as possible. Never stand or linger on the road to flag passing cars or inspect vehicle damage.
Live shots should never be located anywhere along an icy road or in any configuration that could cause drivers to reactively and suddenly apply their brakes (such as bright lights directed toward traffic).
Photography and video of accident scenes by ground-based crews should ony be assigned after EMS/law enforcement has arrived and the roadway shut down from moving traffic.
The motivation to capture compelling footage or photographs in a dramatic situation can easily override common sense for the newsperson covering an icy road story. Encourage your organization to make safety on the roads during winter weather a high priority.

The following comments were posted before this site switched to a new comment system on August 27, 2016

:
Educational Winter Driving Videos - Watch for Free: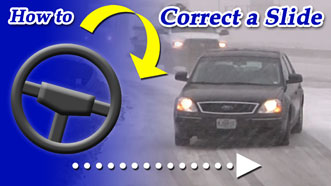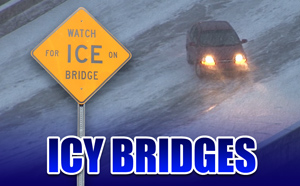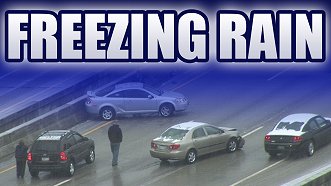 Home | Risk | Stats | Accident Video | Icy Bridges | Tips | Warning Signs | If You Slide | If You Wreck
All content © Dan Robinson. All usage, with limited exception, requires a paid license - please see usage options or contact Dan for inquiries.

Web Site Design and Internet Marketing by CIS Internet