Icy roads are weather's #1 threat to the average person.
Accidents on icy roads kill at least twice the number of people annually than all other severe weather hazards COMBINED (tornadoes, hurricanes, lightning, floods, high winds). Annual injuries number well into the thousands, with many millions in property damage. See the statistics! Icy roads are a threat to life and property that just about everyone will face each winter. The goal of this site is to increase public awareness of the road ice hazard while educating drivers on how to avoid accidents.
Learn how to stay safe this winter by taking this site's free online course: Start Here.
Educational Winter Driving Videos: Free to watch!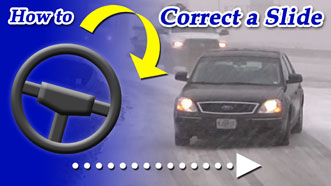 Another significant-impact freezing rain event across the USA has demonstrated once more what this underrated hazard can do.
Read more . . .
Tweets by @icyroadsafety
Home | Risk | Stats | Accident Video | Icy Bridges | Tips | Warning Signs | If You Slide | If You Wreck
All content © Dan Robinson. All usage requires a paid license - please contact Dan for inquiries.

Web Site Design and Internet Marketing by CIS Internet